This recipe has been in staple in my family for years. Everyone in the family considers it one of their favorite foods. It is rich and not-so-figure-friendly, but this is the perfect dish to splurge on. If you have crawfish tails available (they taste much better if they come from the US instead of Asia), they work even better. This pasta is perfect for feeding large crowds by doubling or tripling it. It's my number one go-to dish for pot lucks and family gatherings. Once prepared, transfer it to a crock pot and you're good to go!
Shrimp Fettuccine
1 pound uncooked shrimp, peeled and deveined
1 bunch green onions (and tops)
1 clove garlic, minced
3 tablespoons minced parsley
1/2 cup (1 stick) butter
1/2 teaspoon salt
1 pound of fettuccine noodles, cooked al dente
Cayenne, to taste
2 cups heavy cream
1/2 teaspoon lemon pepper
1 cup freshly grated Parmesan or Romano
Heat butter in a large non-stick skillet. Add green onions, garlic, and parsley. Saute 3 minutes; add cayenne, salt, cream, and lemon pepper. Simmer about 8 minutes on low heat. Stir in shrimp and cook until heated through. Pour over cooked noodles. Top with cheese and toss.
Serves 6. Total preparation time: 35 minutes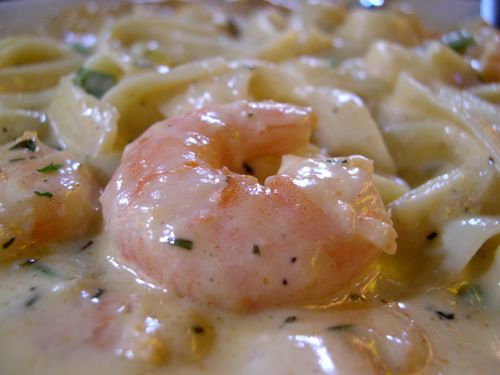 I serve this with a colorful garden salad and some nice crusty bread.